Pamela Rabe discusses her upcoming production Porn.Cake at
Malthouse Theatre April 15 – May 8 2011
---
Multi-layered Rabe mixes it on Melbourne stage
PAMELA Rabe has long been one of Melbourne's most popular actors, and now people have the chance to appreciate a wider range of her talents as she develops as a director.
She is about to have two productions on stage at the same time with the world premiere of Vanessa Bates's Porn.Cake at the Malthouse tonight coinciding with the season of In the Next Room (or The Vibrator Play) at the Melbourne Theatre Company.
This is her fourth stint in charge, but the first to open in Melbourne – Next Room transferred from the Sydney Theatre Company, where she also directed her first two plays even after spending nearly four years mostly as a member of the STC's Actors Company until 2009.
"I enjoy directing very much," she says. "It's a privilege to be able to do both."
She has another hat to wear as a member of the committee, with Robyn Nevin and Aidan Fennessy, to program the MTC 2012 season. "I have so many things to do that being the artistic director of any company is not on the agenda in the near future," she says. "A 12-month slot like this is an exciting way to collaborate with the company." It means she is likely to be involved with the MTC next year, although she does not yet know what she will be doing.
Porn.Cake is a comedy, as are all the plays she has directed. "They are all very different but when you look back you can see that is a common element. None have been farces but they all had a delicate balance between comedy and drama."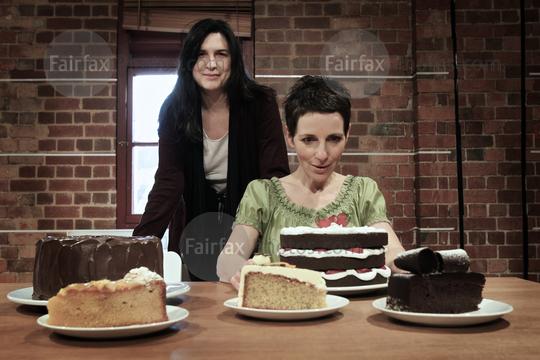 Photo by Fairfax
Rabe describes the play as a "glorious piece of writing".
"It is a very contemporary meditation on midlife as Bates plays with language as she examines the state of the relationship with two couples in their early 40s," she says, joking that the play's cake-giving is a well-known metaphor for love.
Bates is an award-winning Sydney writer who has been an affiliate with the STC and has had several plays produced by ABC Radio National but is little known in Melbourne.
All four characters, played by Christen O'Leary, Luke Elliot, Travis McMahon and Heather Bolton, deliver monologues, which Rabe says is becoming a favourite device in theatre and contemporary dance. "The monologue is one of the building blocks of storytelling that is very powerful because it is unadorned," she says.
The play's distinct approach proved challenging in rehearsal for O'Leary. "I read it three times looking for clues about how to do it but I still wasn't sure how to manage it," she says. Rabe provided the solution. "Her genius as an actor has transferred to her ability as a director. She found a way through the unusual form."
Porn.Cake was a big contrast from O'Leary's previous role as Judy Garland in the Production Company's summer revival of the musical The Boy from Oz. "I got off the plane from performing in Sydney and went straight into this," she says. "I had to embrace a new form and style immediately."
O'Leary says the monologues provide great insights into what the characters are thinking. The play is made up of variations of the scene where a woman offers her partner a fabulous-looking cake.
"Both relationships are in trouble but it is not clear why. But then the scene fractures and the question of what is reality cracks open."
She says Rabe's way of working is to slowly construct the world of the performance like layering a cake. "It is riveting to see how it develops," she says.
Source: theage.com.au
---