The Red Devil Battery Sign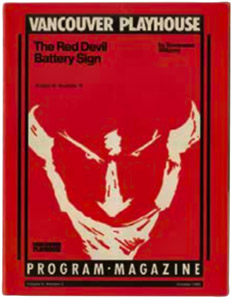 The Vancouver Playhouse produced The Red Devil Battery Sign in October 1980, while Williams was writer-in-residence at the University of British Columbia. It was directed by Roger Hodgman and starred Diane D'Aquila (Woman Downtown) and Richard Donat (King Del Rey). The play received scathing reviews from the Vancouver press and other Canadian papers. However, the Playhouse produced the project the following year at the world premiere of The Notebook of Trigorin, Williams' free adaptation of Anton Chekhov's The Seagull.
Source: Wikipedia
Tennessee Williams comes to dinner
October 14, 1980: Tennessee Williams comes to the house for dinner. Roger Hodgman, who is directing the Vancouver Playhouse production of Williams' late play The Red devil Battery Sign, brings him. With them come Williams's current West End young man-companion and a perky student actress from UBC Roger seems to be currently dating (Roger's wife Helen, the novelist, has left him for another woman, and she and her girlfriend, Barbara, who are soon to move to Australia, were round here recently for a riotous night of drinking—jaunty Australian reds that they brought with them—and hot-tubbing under the lodge-pole pines). Floyd St. Clair and David Watmough complete tonight's group.
Williams is a southern gentleman, a gentle man, in a beard and a pale fedora—old-style graceful, mannerly, slow, his voice like hummingbird wings through blue smoke, all the languid essence of the South. He's 69 and he laughs a lot, mainly at the absurdities of life. His laughter is directed at you in an almost inquiring manner, as if he's inviting you in his generous, smiling, open-faced way to share the joke with him, as if he wants you involved. It's the first time he has enjoyed himself, he says, since arriving in Vancouver a week ago. There is an enormous tenderness about him, as there is about his work. When the West End boy reads out a poem he has written, Williams is careful and reassuring. He wouldn't want to cause hurt.
We sit on the floor by the fire as he holds court, talking for a long time about his plays, about his family, his mental health, and his sister Rose. She's one of his obsessions—he calls her his lodestar, his touchstone, the centre of his life and work. He watched her become insane. She was one of the first people to have a prefrontal lobotomy, and she never recovered, but he has devoted much of his time and money to making her life comfortable. He talks about her when she was young: she was inclined to deep romantic attachments, he says. She was not a great beauty, but her eyes were beautiful. She was narrow-shouldered, small-breasted, by no means a sexpot. When she had gentleman callers she became hysterically animated, "like a bird on loco weed." Who's that if it isn't Laura from A Glass Menagerie?
Yes, he says, of course the family forms a writer. "It takes a long time to escape." And has he escaped? "Almost. I'm always on the margin. But I make a strategic retreat." He wouldn't want to go through it again. "The family created the volatility of my emotions, the terrible drama of the family." He feels his creative powers diminish as he ages. "I'm conscious of time passing and energy subsiding. It has been increasingly difficult to maintain a level with which I'm satisfied." But he laughs at the suggestion that his life has had a tragic edge. "I can't regard it as that. I think I manage far better than I had any right to expect. I expect … nothing."
October 21, 1980: The Red Devil Battery Sign is one of those works of art that split the audience clean down the middle. I saw it at Saturday's opening, spent several hours that night arguing about it, read the script on Sunday and went back to see it again last night. And I'm still torn.
It's a conspiracy theorist's take on how the world is being dehumanized by Big Business and you could dismiss it as that and move on, except it's Tennessee Williams, and shot through with all his familiar humanity and not a little of his real-life paranoia. It's not a play to be intellectualized about. The melodrama is sticky, the symbolism is lumpy, the writing is feverish.
But it is Tennessee Williams, writing in the twilight of his career, and still prepared to try new things in an attempt to reaffirm his belief in the survival of humankind in the face of all the evidence. He could have done all that and played safe, a tarted-up Streetcar, a pale Glass Menagerie. Instead—and this makes him a brave man, in my book—he chose a new approach.
October 26, 1980: NEW YORK: Here to "take the city's temperature" for the paper—theatre, dance music, people: 10 days of immersion. An artsy Sunday in the city starts with a couple of hours at the Whitney, then to a tiny studio theatre five floors up from scruffy 42nd Street for an odd, enigmatic piece by Tennessee Williams called The Two-Character Play, built around a brother and sister involved in each other.
The audience numbers about 50, among them Williams himself, who has seen his Vancouver reviews for The Red Devil Battery Sign, and thinks them good and fair, but is surprised the Vancouver audiences are having such trouble with the play. "They just have to work a bit." He pauses. "But this one is mystifying even to me. I wrote it just after I got out of the bin."
He leaves at intermission to go to a party. The rest of us stay on to wrestle gamely with this fragment of thinly-veiled autobiography.
September 9, 1981: Tennessee Williams is back in town to help with the staging of his new translation of The Seagull at the Playhouse. His visit to the house last year was his only escape from what seems to have been a fairly hectic involvement in the gay party circuit of the West End (according to Doug Hughes, he asked someone at a party for a benediction—he was in a distraught state—and they brought him a Benedictine). He was so happy here that he asks Roger H to ask us if he can come out to the house for another visit. Well, of course.
I pick him up downtown and drive him out to Lions Bay. When I apologize for the way the misty, rainy weather is obscuring the spectacular view of Howe Sound he brushes my apologies aside and pats my arm—"It's like being in Peer Gynt, dear boy," he says.
We reach the house before Susan arrives home from work, and he prowls around the rooms asking anxiously: "What have you done with her?"  He's a great admirer of her ankles, in her high, strappy shoes, and he thinks Gore Vidal would be as well. Ray and Toshi Chatelin join us and we relax into the geniality of Williams's reminiscences.
David Watmough, who was with us when Williams came to dinner last year, thinks that what glues Williams together is his paranoia. It's an interesting idea and one that is borne out not only by his plays—Red Devil Battery Sign was one big conspiracy theory—but by the way he conducts his life. He is quite serious about his fears that some nameless big agency is out to get him for his writing, and quite willing to talk about it. But when you can get him away from that and onto his life and his family and his writings and the people he has known, he's generous and outgoing, unprotected and confiding and entirely lacking in any of the assumptions of superiority that you might reasonably expect to find in someone of his iconic stature.
When he accidentally spills some wine—just a couple of drops—on a place-mat he can't apologise enough: he is really anxious, until Susan promises him it will all come out in the wash. He's a man of great compassion, and a man who invites great compassion. He is quite open about his experiences "in the bin" and I suppose that helps stir the sense of protectiveness that many people feel for him.
Source: maxwyman.com