Three Tall Women came to Australia in 1995, an STC production directed by Wayne Harrison. Ruth Cracknell was a commanding A, and Pamela Rabe (eligibly tall) relished B's sarcasms and acidities ('Calm down; adjust; settle in. Men cheat; men cheat a lot. We cheat less, and we cheat because we're lonely; men cheat because they're men').
Source: australianbookreview.com.au
---
Three Tall Women is a curious, soul-scorching play. It begins almost innocuously. In an opulent sweep of bedroom (designer, Angus Strathie) are three women — tall women.
One of them (Ruth Cracknell) — ancient, haughty, petulant, dressed for elegant bed — demands and grasps attention. Another (Pippa Williamson). middle-aged in circumspect grey, is her companion-nurse, brisk and competent. The third (Pamela Rabe), a radiant young woman of 26, is a law clerk — cheques to be signed, bills to be paid, impatient to be done.
For the entire first act, this play seems without much purpose other than the character exposition of just one of the three women. With audacious confidence, writer Edward Albee etches in fine-nibbed detail esents in the protracted life of Cracknell's character. There's harsh and effective writing here — but prolixity undermines impact.
Then the second act begins. This is different, extraordinary territory. This is theatre that fascinates, appals. and won't be denied; that confronts us with life horribly ravaged, life young and optimistic, life midway and almost wise. This mirror that Albee holds to life is cruel, uncompromising, as bitter as gall.
In this second act, the three women are united — in shared memory; in a past or in a future that is still to become a past. And the fate of one is the fate of all three — each one 26 years older than the one before; or 26 years older than herself as she was. They confront what they have been, and what they will be — and not all of it is bleak.
Wayne Harrison's direction is assured, intelligently understated. He strips his production of extraneous theatricality, gives the stage unequivo-cally to his actors.
These three women work together like dancers, each atuned to the lightest movement of the other. Vocally and physically they weave intricate patterns — now one seizes focus, now another, sometimes two of them, sometimes all three.
In the middle of the three — who are also one — Williamson is this production's vital fulcrum. But the dramatic confrontation — the almost unbearable tension of the second act —is between youth and extreme age.
Rabe and Cracknell are astonishing: Rabe all edgy bravado that won't admit despair; Cracknell unrepentant, unforgiving, ill-tempered and acerbic — the happiest and the saddest of the three tall women on Albee's stage.
The Sydney Morning Herald Sun / 02 July 1995
---
Interviews → click pics below
---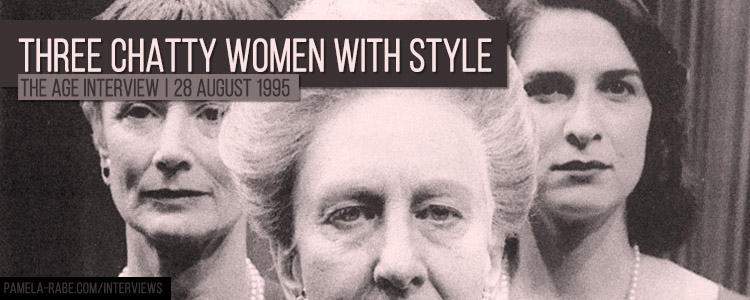 ---
Programme scans by Brynne Elizabeth