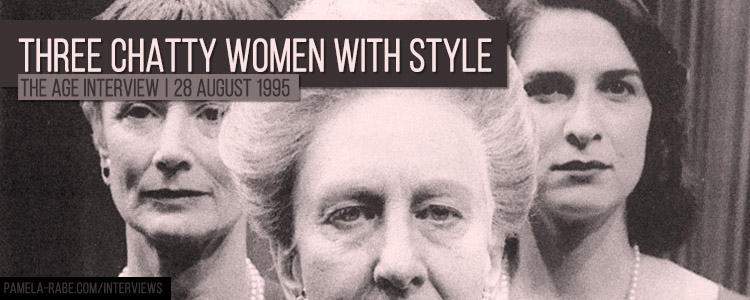 Three tall women discuss acting, memories and the pointlessness of critics.
Three women are having a natter around a restaurant table. Death is on the agenda. Ruth Cracknell, Pamela Rabe and Pippa Williamson are discussing the recent death of Williamson's cat. The conversation moves to a dying man's final words, cremation and fear of death. It's a way for us break the ice.
They are all appearing in Edward Albee's play Three Tall Women. It was typecasting. "I'm the short one. I used to be, and probably still am, five feet eight and three quarters in the old term," says Ruth. Pippa is: "Five, 10 and a half, though I'm probably shrinking." Pamela: "Just under six foot. I'm not aware of it until people comment. And when I see photographs of myself."
Ruth says she wouldn't be short for quids. Her height didn't damage her career even in the early days. "It was great for Greek tragedy and Shakespeare. Great for radio."
"You played the seven dwarves didn't you, Ruth?" Pamela asks.
"Yes, I played Grumpy."
The character of the matriach played by Ruth in Three Tall Women is inspired by Albee's dislike for his adoptive mother. But, much to his surprise, audiences have found her fascinating and even warmed to her.
Are memories of family difficult to communicate to others or were his feelings hard to translate? Pippa says everybody's stories about their lives are fiction.
"It's how you frame it. How you see it is not necessarily how somebody else saw it," Pippa says. "My aunts and uncles have a totally different view of my grandmother than my mother has. Each of them had a subjective view of their mother … When you see it in the context of her life, you see what made her who she became."
Pamela continues that thought: "And that in itself becomes a form of acceptance on behalf of the writer — that he should even choose to investigate what has gone into making this woman." (more…)