On June 6, Neil Simon's much-acclaimed play Lost In Yonkers opens at Sydney's Theatre Royal. DEBORAH McINTOSH spoke to its star Pamela Rabe.
Pamela Rabe came to Australia from Canada in 1983, almost fresh out of acting school. "I remember at the time not knowing what I would be cast in and thinking 'At least, maybe, I'll be all right for a Neil Simon play'. And the funny thing is I've done everything but!"
Until now, that is. Rabe is to star in Neil Simon's Lost in Yonkers, with Ruth Cracknell and Robert Grubb. The play won Simon the 1991 Pulitzer Prize and Tony Award for Best Play, and ripping reviews like "Neil Simon's laughter and tears have come together in a new emotional truth" and "The last of the red-hot playwrights just got hotter".
The story is set in Yonkers, New York in 1942, and is seen through the eyes of two young brothers who are sent to stay with their tyrannical German grandma (Cracknell). Their stay is brightened by their child-like aunt, Bella (Rabe) and their small-time gangster uncle, Louie (Grubb).
After nine years in Australia, Rabe, 33, no longer has the advantage of a North American accent to build on for the role of Bella.
"It takes me a while to nurse myself into a role, which is why now when I go out and socialise with friends in the evening I keep hearing myself say sort of New York-Jewish things. This part is taking hold of me. When I was playing Beatrice I used to go out and buy groceries in iambic pentameter."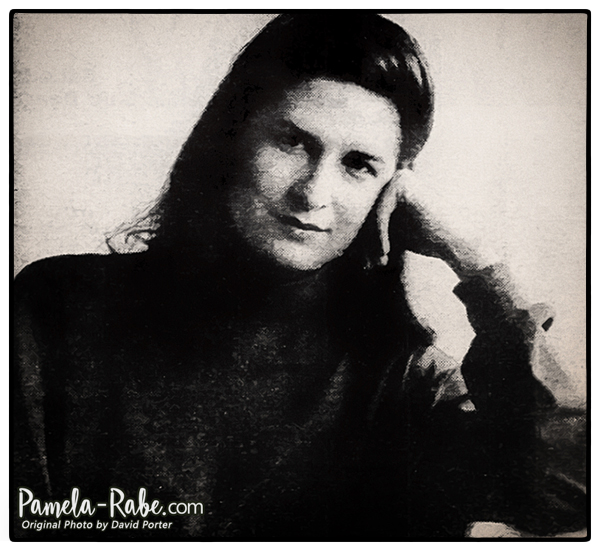 Pamela Rabe | Photo by David Porter (1992)
The feisty, sharp-tongued Beatrice in Shakespeare's Much Ado About Nothing was Rabe's most recent role in a long and impressive list. Her lead parts have included Helena in A Midsummer Night's Dream, Vanya in The Cherry Orchard and Kate in The Taming Qf the Shrew. She won the 1987 Victorian Green Room Award for best actress with her portrayal of Alice B Toklas in Gertrude Stein And Companion.
Rabe grew up and studied acting in Vancouver. She was thinking of moving to begin her career when she met her future husband, Australian Roger Hodgman (now director of the Melbourne Theatre Company). When he asked her to come to Australia she jumped at the chance. "I literally was the first on the plane."
She acted in Melbourne for seven years and then decided to test Sydney waters. "I felt it had got to a point where Melbourne audiences deserved to see a little bit less of me," she said self-effacingly. Rabe is thoughtful and articulate, rarely flippant — a far cry from the cocky Beatrice.
Acting is a notoriously unstable profession, yet Rabe can't remember ever finishing a job and not knowing what was coming up next. It speaks loudly of her talent. She now views herself as a national actress, which is what she always wanted to be. But living on the road, often away from her husband, is difficult. When Yonkers' seven-month national tour ends she wants to "put on the brakes" and "try to set my sights on maybe doing a bit more film or television or something".
In the meantime, she is revelling in gentle Bella. On Broadway. Bella was played by Mercedes Rhuel (who won best supporting actress at the last Academy Awards). Rabe spent a few days in New York at the time — she actually stayed opposite the theatre —but is glad she missed the performance. She wants to carve out Bella for herself.
The role is a "gift", she says. "She's still a kind of child trapped in a woman's body. She's the one who stayed behind and didn't cut herself away from her mother, who's a kind of iron lady.
"It's a great relief to be playing this role. I've just finished a spate of pretty heavy-going tough girls, like Shakespeare's Beatrice and Kate and the Wicked Witch of the West (in the national tour of The Wizard of Oz), and they're all pretty steely women and this character Bella is about a kind of plea against steel … She's quite vulnerable and that's a nice change of pace for me."
Rabe is also pleased to be working in a naturalistic play, on a detailed and homely set, a "real world". But she's quick to stress that the play is not "kitchen-sink or a slice of life".
"People speak so articulately, and they have much more entertaining and funny ways of putting things.
"In real life, if I was Bella, and I got myself into a crisis she gets herself into I would he apoplectic, whereas these people find the words. And that's the joy of being in a play."
Source: The Sydney Morning Herald | May 24, 1992