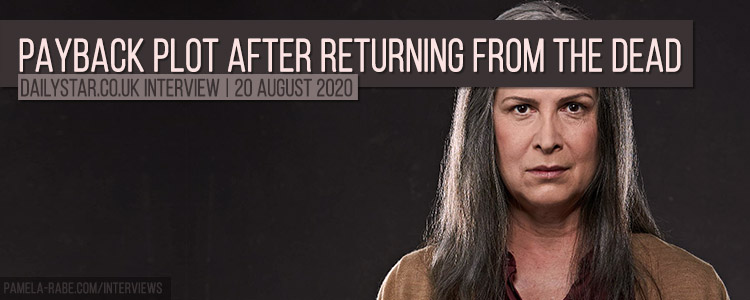 Exclusive interview for Daily Star: Wentworth star Pamela Rabe has teased her terrifying character Joan 'The Freak' Ferguson's payback plot on those around her after being buried alive and left for dead
Wentworth season eight is will under way, with UK fans getting to watch the third episode on Wednesday night – however Joan Ferguson was nowhere to be seen.
The last fans saw of her was her being unconscious on the floor after being attacked by a homeless man, though it was clear she had some sort of dastardly plan in store for Vera and baby Grace.
However Pamela Rabe has suggested Joan doesn't want revenge, despite the fact that Vera was one of the "terrible trio" that tried to get rid of her.
The iconic actress exclusively told Daily Star Online: "I'm not so sure that Joan Ferguson sees these things as revenge. She sees something that she wants or needs.
"There certainly might be a sense of retribution in terms of payback, or that someone is collateral, and in her mind Vera's value may have slipped somewhat due to her complicity in Joan's fate in that box."
Pamela Rabe had to have a code name on set to film Ferguson's return (Image: Fremantle)
She teased: "Frankly, Joan's got something else on her mind. It changes a little bit as we go on down the track.
"Vera Bennett is someone who's clearly very important to Joan Ferguson and there's business that needs to be finished there."
Despite Joan going through challenge after challenge – managing the prison, being a prisoner, being buried alive, to living on the streets – the character keeps bouncing back.
Pamela spoke of Ferguson's terrifying resilience, saying: "One of the wonderful things is she's not always in control – each wobble probably teaches her something new, but that's the strength of the character.
"She is a cockroach. Every challenge, every opponent, every dilemma, is something to be climbed out of, crawled over, and the fact she never gives up is also one of her greatest strengths.
"It's also what makes her terrifying in the kind of B-movie villain way, it's the thing we fear most. The ghoul, the evil force, the uninvited guest. That person or your greatest fear that just will not go away." (more…)