Main | Season 2 | Season 3 | Season 4 | Season 5 | Season 6 /7 | Season 8
CLICK ABOVE FOR MORE INFO ABOUT EACH SEASON

---
---
Joan Ferguson is a fictional character in the Australian television series Wentworth, who serves as the main antagonist from season two onwards. Joan is portrayed by actress Pamela Rabe. 'Joan's notable storylines is her feuds with Will Jackson, Bea Smith and most staff and inmates. She is introduced in Season 2 as the new governor of Wentworth Prison following Erica Davidson being fired but becomes a prisoner in Season 4.
During her time as both governor and prisoner, Joan is known for creating major conflicts within Wentworth prison. The second season follows her attempting to gain control over the prison by replacing Franky with Bea in the top dog position, as well as turning Will Jackson and Matthew Fletcher against each other in revenge for a past incident with Will. The third season shows a more psychotic side of Joan as Bea turns against her and her fight for power over the prison as well as her vendetta against Will Jackson leads her to being arrested in the last episode. Joan returns to Wentworth as a prisoner in Season 4 and attempts to exonerate herself and end Bea Smith's rule, doing this first by befriending Kaz Proctor and convincing her to murder her star witness, Nils Jesper. When this fails, Joan uses her knowledge of Officer Jake Stewart's drug activities within the prison to have him kill Nils Jesper. As she walks free, Bea Smith ambushes her in revenge for Joan's attempted murder of Bea's girlfriend, Allie, and thrusts a knife into herself, incriminating Joan for Bea's murder. Season 5 follows Joan being imprisoned for Bea's murder, as she attempts to bring down Vera Bennet by becoming Top Dog. Allie Novak attempts multiple times to get her revenge on Joan, finally succeeding by having her buried alive in the last episode.
Although it has not yet been announced if Joan will return in Season 6, a trailer released for the sixth season does reveal that Joan will appear in as figment of Will Jackson's imagination, due to his guilt. It is not known if Joan has survived; however, her character will have a part to play in some form in the upcoming season which will premiere on 19 June 2018.
---
Creation
FremantleMedia Director of Drama Jo Porter said "Prisoner offered up a very rich well of amazing characters to draw upon and the Wentworth writers are very excited about revisiting the character of prison officer Joan 'The Freak' Ferguson in our second season. It was then announced that Pamela Rabe was going to portray Joan. It was said "In reviving the role of Joan Ferguson, Rabe adds to Wentworth's stellar cast and will undoubtedly add new layers to an imposing character…"
---
Characterization
The Wentworth website states "Joan's strength is her determination to succeed against the odds. She found a career in corrections and started as an officer. Her no-nonsense attitude won her fans in high places and she was fast-tracked to Deputy Governor of Queensland's most troublesome prison, Blackmoore."
---
Backstory
In a Joan centric episode, "The Fixer", we see that Joan worked in a different prison, and was having a relationship with one of the inmates, Jianna. Jianna's baby was taken away from her, and Joan blamed Will Jackson, then a social worker, for Jianna's death. Joan wasn't aware that, because of their relationship, Jianna was, in fact, killed by the other prisoners.
---
Crimes
Assaulting Kelly Bryant
Accessory to the home invasion of Matthew Fletcher
Accessory to the home invasion of Will Jackson
First-degree murder of Simone Slater
Accessory to reckless endagerment of Will Jackson and Rose Atkins
Accessory to the attempted murder of Matthew Fletcher (on two counts, was imprisoned for this)
Psychological, physical, emotional and sexual abuse of Jodie Spiteri (investigated)
Accessory to assault on Bea Smith
Accessory to the murder of Harry Smith and attempting to frame Will Jackson (was imprisoned for this)
Accessory to the drugging and assault of Bea Smith (was imprisoned for this)
Illegally recording of a confidential meeting (once with Bridget Westfall and Franky Doyle, again with Karen Proctor and Bea Smith)
Planting drugs on Nash Taylor
First-degree murder of Jess Warner
Committing arson on Wentworth Prison
Planting drugs on Allie Novak
Attempted murder of Bea Smith
Attempted murder of Allie Novak (on two counts)
Accessory to attempted murder of Nils Jesper (with Shane Butler)
Accessory to the murder of Nils Jesper (with Jake Stewart)
Murder of Bea Smith (was imprisoned for this)
Drug trafficking in Wentworth Prison
Assault and laceration of Lucy Gambaro
First-degree murder of Iman Farrah
---
Reception
Joan Ferguson has been described as "arguably the biggest villain within the Wentworth walls.". Gay Times described Ferguson as a "formidable governor", they also said
"Straight edged, hair back and a stern face, Joan Ferguson is a force to be reckoned with"
Reveal Magazine billed Joan as "The dreaded Joan Ferguson" when talking about the episode Born Again.
Metro said,
"Joan 'The Freak' Ferguson isn't just the most terrifying character in all prison dramas – she's the baddest and most sinister baddie ever to grace TV."
Pamela Rabe was nominated for a Logie Award in the category "Most Outstanding Actress" for her portrayal of Joan Ferguson.
Graeme Blundell of the Australian wrote
"So much awe surrounds Ferguson that she seems to possess supernatural powers, a Hannibal Lecter-like superhuman cunning and lack of empathy, though Rabe, a performer of unerring grace and authenticity, is such an accomplished actress she avoids the melodrama, turning Ferguson into one of the most believable villains we've seen on the local screen."
---
Source: Wikipedia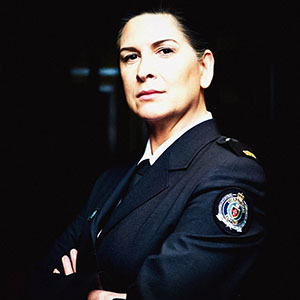 Date of Birth: 24/08/64
Place of Birth: Korsakov, Russia
Nationality: Australian
Eyes: Brown
Build: Large
Status: Single
Occupation: Governor, Corrections Victorian