Main | Season 2 | Season 3 | Season 4 | Season 5 | Season 6 /7 | Season 8
S5: Gallery | Interviews | Trailer | Events | Behind The Scenes
---
Trailer
---
Storyline
Joan is put in the isolation unit of Wentworth following Bea's death. She is then released into the general population at the same time as Allie comes back from the hospital following her overdose. In the exercise yard, Allie and a number of different inmates attack Joan. Joan fights back and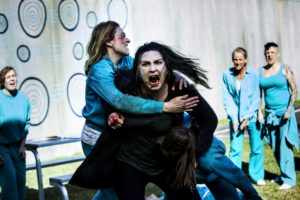 proves victorious, snapping an inmates arm and strangling Allie just as she had done to Jess, scaring the other inmates. She believes that Vera was trying to help Bea kill her and conveys this to her lawyer, Jake and Vera herself. Since this is true, Vera makes it appear that Bea had used another officer's card to escape and kill Joan, infuriating her.
When Franky Doyle returns to Wentworth, she meets with Joan and believes that Ferguson framed her for Mike Penisi's murder, since the gun Shane was going to use on Nils Jesper was the one that Mike was shot with. This causes a confrontation in the cafeteria as well as Franky asking Vera to find out who killed Nils Jesper. Joan puts on the teal uniform again in this episode and makes it her goal to have Vera brought down in her job and in her emotional life. Joan lets Top Dog Kaz Proctor know of the drug conduit Tina is using. When Kaz shuts down the drug trade, Joan gains partnership with her crew as well as 'the Boys' when she promises to find a new drug conduit. With Jake Stewart on her side, the women are supplied with more and more drugs, putting a strain on Kaz Proctor's leadership.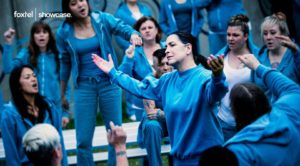 Joan focuses on becoming Top Dog and using the position to take down Vera. She has Jake become closer to Vera, moving in with him and throwing her a birthday party, and also makes him have sex with the prison nurse, Mrs Radcliffe. She uses this incident to blackmail the nurse into sabotaging Lucy Gambaro's dentist appointment. As she puts new prisoner Iman into Lucy's orbit and manipulates Lucy into attempting to rape Iman, Kaz Proctor loses support as she refuses to use violence to punish Lucy. Joan cuts out Lucy Gambaro's tongue and has Jake put it in a gift box to give it to Vera as her birthday present. This new move gains the support and fear of the prison inmates, who elect her as the new top dog.
Joan starts her reign by supplying drugs to the women, including Bea's girlfriend Allie, who is actually attempting to use the drugs to hotshot Joan and get her revenge. Joan has Allie burn Bea's old drawing book and the photos left in it in exchange for the drugs. While in the shower, Allie appears to have overdosed and Joan taunts her, stating "If only Bea could see us now." Allie attempts to kill Joan by sticking a syringe filled with drugs in her neck. However, the plan backfires as Joan overpowers Allie and holds the syringe above her neck. Joan instead spares her and states that Bea "died for nothing."
Joan attempts to use the garden project run by Sonia Stevens as an alternative way to bring in drugs. Sonia initially refuses but after Joan convinces her that they are similar, Sonia agrees. Will Jackson has become suspicious of Jake's drug activities and Joan tells him to plant drugs in Will's locker, which Will manages to get rid of. After catching Franky and Allie in the laundry chute, the two kiss to cover up their attempt to escape via the chute. Joan relays this incident to Bridget, who has been struggling with Franky being in prison, causing Bridget to leave.
Jake tells Joan that Will Jackson has convinced Allie to come forward as a witness that Jake is supplying drugs to the prison. Joan has this shut down by having Jake take photos of Franky's younger sister, scaring Franky into thinking her sister will be in danger. Allie then lies when she gives testimony. Joan walks in on Iman attempting to murder Franky, in revenge for Mike Penisi's obsession with Franky that led to his death. Joan saves Franky by overpowering Iman but then snaps Iman's neck in order to prevent the truth of Franky's crime being revealed. Joan claims that Franky killed Iman and she walked in on it. Franky is then charged with Iman's murder and Vera is fired after the incident.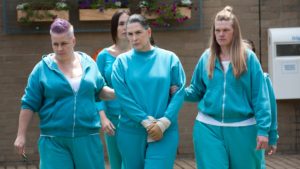 Jake starts to turn against Joan after she asks him to break up with Vera. When he refuses, she tells Vera herself and reveals that their whole relationship was based on Joan's instruction. Vera is emotionally distraught after the incident. While in her cell, Joan is taken and cuffed by the Red Right Hand and Franky, who decide to have Joan taken down. They tie her to the basketball post in the exercise yard and ward off officers by taking Linda Miles hostage. Kaz orders an election for Top Dog and Franky reveals to them all her violent past including Iman's murder, Bea Smith's death, hotshotting Simmo and Allie, torturing Jodie Spiteri, cutting out Lucy Gambaro's tongue and murdering Jess before starting the fire. Joan is then elected out of her top dog decision but before being released, a lynching rope is thrown into the courtyard. Joan is hung up the goal post by the prisoners and almost suffocates until Vera Bennet cuts off the rope and gives CPR to Joan, who resuscitates.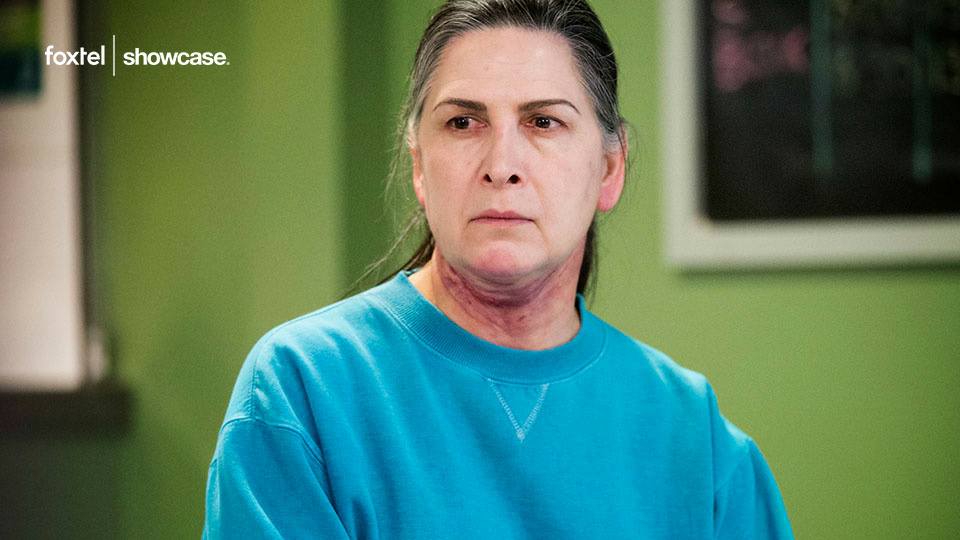 Joan is put in the medical unit following the incident but is very quickly released into general by the new Governor Derek Channing, who wishes to have her dead and refuses her requests for security. While Will visits her in her room, she taunts him as being weak after he did nothing following the death of his wife, revealing that she was the one who exposed the truth to him. Joan is put into general population, where she becomes scared for her life following Sonia's poisoning. Jake captures Allie and Franky in the middle of their escape plan. Allie uses her escape to get revenge on Joan and has Jake reveal the plan to her. Joan climbs into the wooden box and awaits to be driven out of the prison in the truck. However, unbeknown to her, a hooded figure takes her away separately, to a secluded woodland, and buries her underground. Hearing the soil being dropped on top of the box, Joan quickly becomes aware that her plan has gone disastrously wrong. She screams for help but is ignored. She tries to break out to no avail. The hooded figure is revealed to be Will Jackson, thus proving he is capable of evil. Lying horizontally underground, Joan suddenly sees Bea's self-portrait nailed above her. Realizing this was Allie's plan all along, she lets out a defeated and terrified scream.
---
Source: Wikipedia  |  Photos: showcasechannel.com.au
---
The fifth season of the television drama series Wentworth premiered on Showcase in Australia on 4 April 2017, having previously aired on SoHo, and concluded on June 20, 2017. It was executive produced by FremantleMedia's Director of Drama, Jo Porter. The season comprised 12 episodes. The fifth season picks up just days after the death of Bea Smith and is therefore noted as the first season not to feature Danielle Cormack.
https://pamela-rabe.com/wentworth-season-5-behind-the-scenes-photos/

https://pamela-rabe.com/tv-week-interview-july-2018/

https://pamela-rabe.com/pam-won-the-logie-for-most-outstanding-actress/

https://pamela-rabe.com/wentworths-joan-the-freak-ferguson-actress-pamela-rabe-stars-as-jesus-mother-in-solo-show/

https://pamela-rabe.com/pamela-rabe-opens-up-about-wentworths-tongue-scene/

https://pamela-rabe.com/pamela-rabe-beas-parting-gift-the-freaks-in-the-frame/

https://pamela-rabe.com/pamela-rabe-the-devil-you-know/
EPISODES
| | |
| --- | --- |
| 01 | Scars |
| 02 | The Bitch is Back |
| 03 | Nothing But the Truth |
| 04 | Loose Ends |
| 05 | Belly of the Beast |
| 06 | Happy Birthday, Vera |
| 07 | The Pact |
| 08 | Think Inside the Box |
| 09 | Snakehead |
| 10 | Mere Anarchy |
| 11 | Coup de Grace |
| 12 | Hell Bent |