Main | Season 2 | Season 3 | Season 4 | Season 5 | Season 6 /7 | Season 8
S3: Gallery | Interviews | Trailer | Events | Bloopers | Behind The Scenes
---
Trailer
---
Storyline
Joan puts Vera's life at risk during a riot organised by Bea Smith. Joan is later told by Bea "You don't run this prison. I do!" After the riot, Joan sits Bea down and tries to find out what Bea wants. Bea gets what she wants from Joan including pizzas for breakfast. Franky witnesses Joan taking Jodie somewhere while in the slot.
Bea realises that Joan tortured Jodie into shivving Bea Smith in the yard.
Joan visits Fletch and when she learns that Vera has been going to see him behind her back, she calls her trust in Vera into question.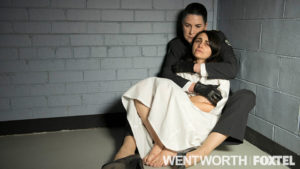 Jodie makes an abuse complaint against Ferguson which blindsides her. Joan isn't happy when Derek can't quash the complaint as it had been made directly to the ombudsman. When realising that Bea had a hand in the complaint, she gets her henchman to drug Bea and drag her into the exercise yard through the tunnels. Without Bea at her hearing, Jodie fumbles and is sent to the psych unit.
Joan has Bea put in the psych unit when Bea's behavior in the exercise yard is mistaken as a psychotic episode. Joan forces Bea say it was a mental breakdown to get Bea out of the psych unit. After hearing from Vera of rumours of Bridget and Franky's relationship, Joan plants a recording device in Bridget's office and hears Franky admitting to killing Meg Jackson.
Joan yet again tortures Jodie, leading Jodie to stab herself in the eye to prevent Jodie's move into the general population. When Bridget accuses Joan of engineering the self-harm, Joan manipulates Vera into writing a statement on Bridget and Franky's relationship and has Bridget resign. Joan later has dinner with Vera, who confronts Joan about the riot incident and how it led Vera to contract hepatitis C.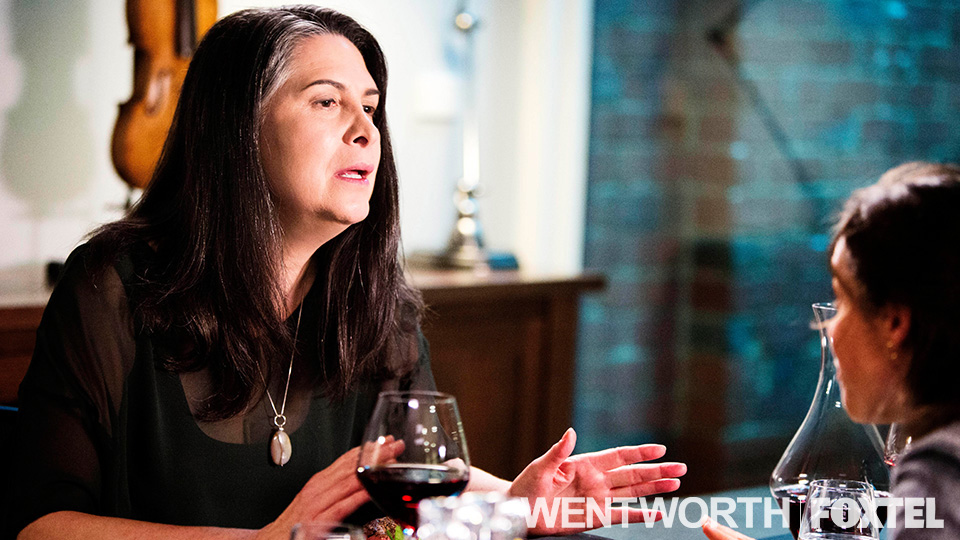 Joan turns Will and Franky against each other by sending Will the recording of Franky's confession on his wife's murder. Joan watches Will attack Franky but is enraged when he does nothing and Franky's parole is sealed. Joan then plants drugs in toys Nash Taylor came to bring Joshua in revenge for Doreen making fun of her and to further turn Bea's friends against her.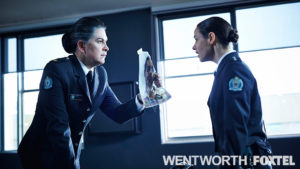 When Joan believes Vera tried using Jianna as an excuse to unsettle her, she violently slaps Vera and their friendship ends. She reveals in front of all the staff Vera's condition and forfeits her deputy governorship. She then sees Fletch witnessing a hallucination of her father and asks Nils to kill him to stop him from revealing her previous murder attempt on him.
In the third-season finale, Joan finds the walls closing in on her. She plants a recording device in the secure spot where Kaz Proctor reveals to Bea the name of Joan's henchman is Nils Jesper. She then calls Nils who is waiting to murder Matthew Fletcher on Joan's command. Joan then listens in to the recording as she notices Bea turning her back on Kaz. Joan is later seen smiling as she watches a news report that Kaz Proctor due to an anonymous phone call from an inmate at Wentworth Prison. Vera comes in and reveals she's put in a complaint to the board against Joan. When Doreen's baby Joshua is kidnapped by Jess, Joan finds Jess and strangles her before setting the prison on fire to cover it up after she learns that her henchman is now in police custody. She later blames Jess for starting the fire and makes it look like she perished in the flames. After Bea and Will save Ferguson from the fire, Joan is arrested with all the prisoners watching.
---
Source: Wikipedia  |  Photos: showcasechannel.com.au
---
The third season of the television drama series Wentworth premiered on SoHo in Australia on 7 April 2015. It was executively produced by FremantleMedia's Director of Drama, Jo Porter. The season comprises 12 episodes. Season three picks up four months after Bea's return to Wentworth following her escape and revenge murder of Brayden Holt.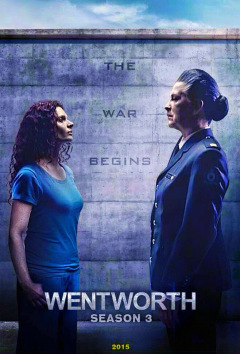 ---
Related Articles
https://pamela-rabe.com/wentworth-season-3-behind-the-scenes-photos/
https://pamela-rabe.com/you-dont-run-this-interview-i-do-wentworth-star-pamela-rabe-on-joan-the-freak-ferguson/
https://pamela-rabe.com/pamela-rabe-exclusive-wentworth-interview-ill-say-it-what-the-fk-ill-say-it/
https://pamela-rabe.com/wentworths-pamela-rabe-people-squeal-when-they-see-me-off-set/
https://pamela-rabe.com/freakout/
https://pamela-rabe.com/pamela-rabe-on-wentworth-and-the-glass-menagerie/