Main | Season 2 | Season 3 | Season 4 | Season 5 | Season 6 /7 | Season 8
S2: Gallery | Interviews | Trailer | Events | Behind The Scenes
---
Trailer
---
Storyline
Joan is introduced at the beginning of the second season when she busts a drug smuggle in the laundry room and introduces herself as governor. After Franky refuses allegiance with her, Ferguson becomes fixed on ending Franky's reign as top dog. She releases Bea and cuts her medication to make Bea lucid and urges her into taking on the top dog position.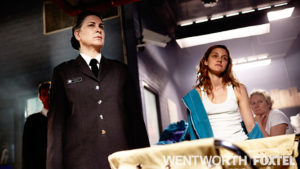 Joan lets Doreen start a garden project in the prison and gets prisoners from the men's prison to help with the development. She uses this trust to let Doreen tell her how Bea is and to reveal what prisoner spray painted a derogatory photo of Ferguson (the prisoner was Sky Pierson).
Joan later gets Vera drunk to learn about the secrets of the prison, including Fletch's affair with former governor Meg Jackson. She later uses this information to inform Jackson of the affair and then has her thug, Nils Jesper, invade Fletcher's home to make it look like Will invaded his home looking for the diary then has Jackson's home invaded to make it look like Fletch was trying to get the diary back.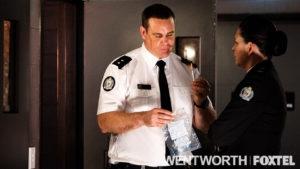 Joan gives a "hotshot" to Simmo Slater when she learns that Simmo has to kill Bea Smith, making it look like she had a bad reaction to Franky's drugs. Joan also manipulates Liz into being her informant.
As punishment for Franky's drug trade, Ferguson makes the inmates watch as she bulldozes the whole garden project. Franky confronts Joan over murdering Simmo, at which point Ferguson reveals to her that one of Franky's friends is her informer.
Joan abuses Doreen after finding out she was pregnant. Joan then tries to get Doreen to blame Will on being the father. When Doreen refuses, Ferguson murders Doreen's pet bird and tosses it into her cell.
When Derek Channing initiates an investigation into Wentworth Prison in an attempt to get Ferguson removed as Governor, Ferguson finds out from Rachel Singer that Derek is recruiting parolees. She has Nils look into it and finds out he uses the young parolees as a part of his brothels. Ferguson blackmails Derek with this information, forcing him to give her a good word to the board.
When new inmate Kelly Bryant is transferred to Wentworth, she notices Joan immediately and Fletcher confronts her about it. Ferguson then meets with Kelly and has her moved to Bahnhurst prison. In the midst of Bea's escape, Fletch finds out from Bryant that Joan assaulted Kelly to keep her quiet on her relationship with Jianna Butler. Fletch confronts Joan, along with the knowledge that she invaded his house and has a vendetta against Will, since he was the social worker that took Jianna's baby away. To keep him quiet, she has Fletch run down outside of Will's house.
Ferguson then demands answers from Doreen, Maxine Conway, Franky and other prisoners as to information where Bea went. Joan later makes out that Bea and Will were complicit and planned the escape. She has Vera affirm this accusation since she has the knowledge that Vera euthanized her sick mother. When Bea returns, she addresses Joan as "Freak".
---
Source: Wikipedia  |  Photos: showcasechannel.com.au
---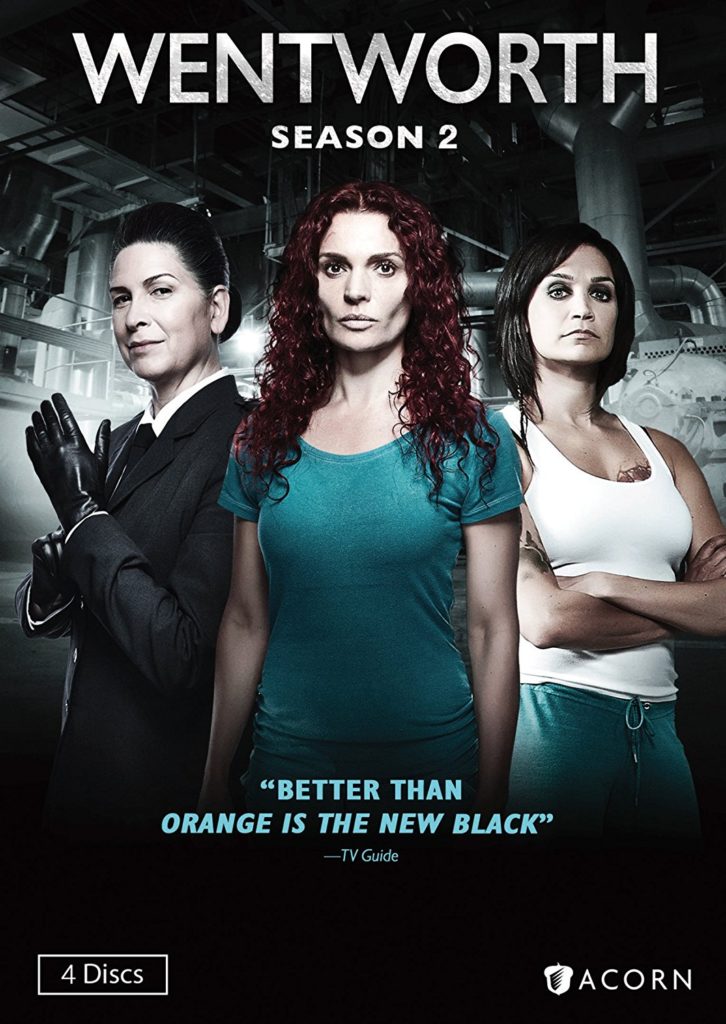 The second season of the crime drama television series Wentworth premiered on SoHo in Australia on May 20, 2014. It was executively produced by FremantleMedia's director of drama Jo Porter. The season consisted of 12 episodes.
---
| | |
| --- | --- |
| 01 | Born Again |
| 02 | Whatever It Takes |
| 03 | Boys In The Yard |
| 04 | The Danger Within |
| 05 | Twist The Knife |
| 06 | The Pink Dragon |
| 07 | Metamorphosis |
| 08 | Sins of the Mother |
| 09 | The Fixer |
| 10 | Jail Birds |
| 11 | Into the Night |
| 12 | Fear Her |
https://pamela-rabe.com/wentworth-behind-the-scenes-season-2-photos/
https://pamela-rabe.com/pamela-rabe-indulges-her-nasty-streak/
https://pamela-rabe.com/actor-pamela-rabe-on-playing-character-governor-joan-ferguson-on-foxtels-tv-drama-wentworth/
https://pamela-rabe.com/pamela-rabe-freaking-out-over-evil-role/
https://pamela-rabe.com/wentworth-season-2s-new-governor-gets-sadistic/
https://pamela-rabe.com/pamela-rabe-locked-on-a-new-joan-ferguson/